New Car Tyres and Tyre Fitting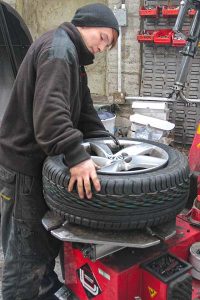 Whether you have a puncture or your tyres are worn out, we have a service for all your tyre needs. We are an independent tyre fitter and can supply and fit most makes of tyres from budget tyres, through midrange tyres and premium tyres.
We are happy to advise you on the best options available to suit your budget when it comes to buying new tyres.
Budget Tyres



Mid-range Tyres


Premium Tyres






Complete range of tyre services in Sussex
Replacement tyres
Punctured tyres repaired
Tyre fitting (tyres supplied by us or customer supplied tyres)
Wheel balancing
Tracking
Tyre pressure checking
Tyre swapping (we will swap your winter and summer tyres)
Free Tyre Checking
Call into our Garage in Sharpthorne and we will perform our free tyre checking service. First, we will check that your tyres are legal with the correct amount of tread depth. An illegal tyre can incur a fine and three points per tyre on your driving licence. The tyre pressures are checked and adjusted to the correct pressures. If you live in the local area and are planning a long journey make us your first stop to assure your journey is a safe one.
Puncture Repairs
A flat tyre does not always mean a new tyre is required. Depending on where on the tyre the puncture is, it is often possible to carry out a repair. Please call in and let us check, we will advise you if the tyre can be safely repaired.
Tracking
Badly adjusted tracking is a major cause of tyres wearing out prematurely or unevenly across the tread. This can be a particular problem on rough or potholed roads. If you notice your tyres are wearing on the inside or outside edges, this could be a sign your tracking is out of alignment.
We can check and adjust your tracking for just £40.00+vat, please call to make an appointment.