MOT Testing Centre in Sharpthorne, West Sussex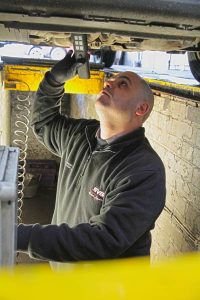 Sharpthorne Village Garage offers Class 4 MOT tests. This is the standard class for cars, 4x4s and vans up to 3000kg (3 tons) with up to eight passenger seats. Class 5 and 7 MOT tests can be made by arrangement.
A MOT test is required by law for any car that is three or more years old. It is a basic annual assessment of the car's safety, it's emissions and roadworthiness.
Please note: we have a 95 inch (7' 9" or 2.4m) height restriction. This may be too low for bigger campervans or high top vans.
A MOT test checks the following on your car
Vehicle Identification Number
Lights (working and correct alignment)
Suspension and steering
Registration (number) plate
Windscreen, windscreen wipers and windscreen washers
Horn
Seats and seatbelts
Mirrors
Brakes, wheels, and tyres
Bodywork and doors corrosion
Fuel system and emission levels
Warning lights (see diagnostic testing)
Most MOT failures arise from easily fixed issues. These often concern lights and indicators, suspension, brakes, and tyres. As we are a garage and not just a MOT centre we can often repair your car the same day if it fails the MOT test. If your car is repaired by us within 10 working days we will retest for free.
A MOT test is not a replacement for a car's annual service. To keep your car reliable and running efficiently, please see our servicing options here.
Check MOT Status
 If you are not sure when your MOT is due, please use the button below to check on the Government Vehicle Enquiry website. You will need your registration number and vehicle make to check this information. Alternatively give us a call and we can check it for you.
MOT Reminder Service
When you book your car in for a MOT at Sharpthorne Village Garage we will automatically remind you when it is due in the future.
MOT Costs
Our charge to perform the MOT test is £54.00. There is no VAT charged on MOTs. If repairs are required we will let you know any costs involved before we start.